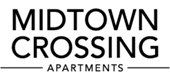 Frequently Asked Questions
Click on one of the links below to review the FAQs for that section, or scroll down to read all FAQs!
Midtown Crossing
|
Future Residents
|
Current Residents
|
Cottonwood Residential Communities


Midtown Crossing
Do all of your apartments have the same finishes?
No, we office classic and renovated units. The classic units come with a black appliance package and rubbed oiled bronze light fixtures. Our newly renovated apartments come with stainless steel appliance and light fixtures, white stretched granite laminate countertops, and gray painted cabinets.

Do all of your apartments include washer and dryer?
No, select apartments include a washer and dryer which are permanent fixture with a cost of $30/mo.

Do you have garages?
No, we do not have garages.

Do you have storage units available?
Storage rooms are available on the patio/balcony.

What is the parking policy at Midtown Crossing?
Parking is first come first serve. No parking permits are required and we do not offer reserved spaces. Carports are available at select buildings for $10/mo.

What is included in the rent price?
The price shown on our website just includes your rent. All residents pay for electricity which is setup by you and placed in your name through Duke Energy. Water, sewer, a utility admin fee, are billed by our third party billing company – 1st of month. Trash is billed monthly at $14.00, along with our Tech Amenity Package for $75 monthly.

How do I setup electricity?
Once you apply and receive approval, you will contact Duke Energy to set up electric service prior to moving in. Provide them with your lease start date and address.

Who is the provider for internet and cable in this area?
The property offers a mandatory Tech Amenity package with high speed internet and 130 channels. Additional cable packages can be ordered through Spectrum, additional fees will apply.

What are the lease terms that are offered?
We offer lease terms from 4 to 12 months, with different pricing options for each term.

What are the hours for the amenities?
Residents receive 24 hour access to the fitness center and clothes care center, the pool area from 10 am to 9 pm - seasonal. Residents also have access to the playground, dog park, and car wash at their leisure.

What schools is Midtown Crossing zoned for?
Midtown Crossing is zoned for Green Road Elementary, Carroll Middle School, and Sanderson High School.
Go to top





For Future Residents
How can I apply for an apartment?
Our application process is online and entirely paperless making the process smooth and efficient for you. From our website, click Apply in the top menu bar or by choosing a floor plan, then unit, then clicking Apply Online.
What if I'm not ready to apply? What other options are there?
If you're not ready to apply, click Email Us to send us your questions, or stop by to visit our community. Our pricing does change daily so we encourage you to apply as soon as possible to lock in the current rate.

How long do I have to move-in to my apartment?
You may apply to move-in starting the date the unit is available. The unit can be moved in to within seven (7) days afterwards.

What do you look for in the application?
We use third-party, independent screening service that views your credit, rental history, and employment history. They also complete a background check.
Do you have furnished apartments?
No, we do not provide furnished apartments; however, you can reach out to a local rental company to rent furniture.
Does it cost anything to take a tour?
Absolutely not! There is no charge to view our apartments and community amenities.
Do I have to make an appointment, or do you accept walk-ins?
No, you do not need an appointment.
Can I get a price reduction if I sign a longer lease or pay for rent a year in advance?
We offer a variety of lease terms, and the prices vary based on the length of the lease. We do not offer a discount for paying a year in advance.
What is the renters' insurance policy?
We require renter's insurance with a liability protection minimum of $100,000 for the protection of our community. We also recommend you obtain personal renter's insurance for the protection of your belongings. We do offer Resident Indemnity Management insurance. Click here for more information.
How accessible is the team at the local office?
Our staff is available during office hours to assist you seven days a week! You can also email us anytime, and we'll respond during office hours. All of our communities offer 24-hour emergency maintenance, as well–simply call us and a member of our service team will come out for emergency maintenance requests.
Go to top





For Current Residents
How do I receive packages?
Packages can be sent through any courier and are received at the office if the resident is unavailable to receive the package at the apartment.

How do I send packages?
Residents are responsible for sending their own packages by visiting UPS, FedEx or USPS.

What fees will I need to pay if I have to break my lease?
We require a 60-day written notice to vacate and there is a buy-out equal to 2 month's rent.

How do I pay my rent online?
Visit your Resident Portal, and click Make a Payment.
How do I transfer to a new apartment?
To transfer to a new apartment, please contact the office to discuss transfer options within Midtown Crossing as well as additional options if you are relocating out of the area. The transfer fee is $250.

Will I be allowed to sublet my apartment?
No, we do not allow sublets.
Go to top



Cottonwood Residential Communities
Where are other Cottonwood Residential communities located?
We are located throughout the United States. Click here to see all of our communities.
Go to top